10 Essential Steps for Church Safety
"Keep watch over yourselves and all the flock of which the Holy Spirit has made you overseers. Be shepherds of the church of God, which he bought with his own blood."
Acts 20:28
The God given task to watch over the flock brings a broad range of responsibilities and considerations for the local Pastor and church leadership. Especially as it pertains to the need for church security and safety measures.
Christ modeled care for both the physical and spiritual needs of those to whom he ministered. In following that example, the church must remember not to neglect the physical needs for the safety and protection of our children and families.  You will rarely convince others that you have a genuine concern for their eternal security, if you overlook their need for physical security and safety.
With incidents of crime and church violence on the rise, we must increase our efforts to create realistic barriers of protection for our congregations. Ones that wont restrict our ability to remain open and accepting to those who visit.
Consider implementing some of the following practices to help increase your safety and emergency readiness:
CONDUCT A RISK ASSESSMENT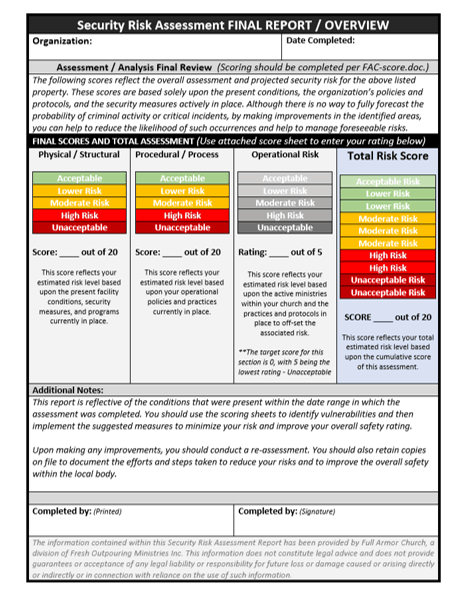 Regardless of the size of your ministry, you should conduct an annual risk assessment. This much needed process can help you better understand the inherent risks associated with your daily operations and can identify vulnerabilities that may be exploited by others intending to do harm.
During a risk assessment, you should objectively inspect and evaluate your ministries protocols, your active security measures in place, and then scan the exterior and interior of your properties to identify natural hazards or obvious weaknesses.
When conducting a self-assessment assessment, it is critical that you remain objective and honest with yourself. You may even want to consider having additional members from your church board, security director, or pastoral staff complete a separate assessment and then submit their findings for a final joint review. This overlapping approach can help to ensure items are not overlooked due to being commonplace.  Our risk assessment form can help.
During an assessment of your ministry, you should revisit and review any written policies and procedures on file for needed updates and/or modifications. As a good practice, make sure you have clearly written job descriptions and child safety procedures in place for all volunteers and staff members. You should also audit your records to make sure you have applications, background checks, and current personal information on file for all persons serving with or around your children.
In addition to the steps already mentioned, you should also consider photographing or recording the present conditions of the exterior and interior of your facilities. Inspect all of your installed security equipment and ensure your fire safety equipment or break away doors are fully functional and in good working condition. Remember to take sufficient notes, while conducting the walk through, and compile a to-do list for any identified deficiencies.
UTILIZE ALARM AND MONITORING EQUIPMENT
Church properties should be adequately equipped with a monitored security system that has the ability to dispatch local law enforcement and fire or medical services. Churches should also consider installing video surveillance equipment to record their parking lots, access points to children's service areas, offices, and areas in which people congregate or attend services. Although, in times past, many ministries found the use of recording equipment financially unfeasible, there are numerous cost effective solutions available on the market today. In fact, you can usually find several options for 4 or 8 camera systems for around $300-$600. Many of these have the ability to be monitored and accessed using your smartphone and can be installed using in house labor.
SECURE AND LABEL ELECTRONICS AND MEDIA EQUIPMENT
All church owned media and electronic devices should be adequately secured to prevent theft and unauthorized access. This includes mounted projectors, television monitors, sound and lighting equipment, computers, office supplies, etc. These are just a few of the most common items stolen during incidents of internal theft or burglaries.
In addition to securing your high valued items, you should also maintain an inventory record for potential insurance claims or losses. Document and record serial numbers, brands, makes, models, and estimated values of all electronic equipment and media devices. You should also consider marking or labeling your items with ministry specific labels in an inconspicuous area on the device or component. This can aid in quick identification and recovery of church owned property.
OPERATE A SECURITY MINISTRY TEAM
Every ministry should have selected members within the body who are trained and prepared to assist the church in time of need. Church security ministries should operate under a clear set of established procedures and fall under the direct oversight of an appointed security director or pastor.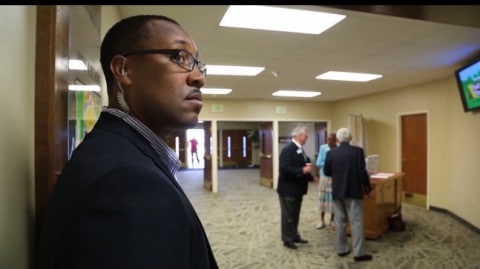 When operating a church security ministry team, you should remember that it should never be any larger than the qualified pool of candidates available to serve. Although many people may qualify to serve within the role of a greeter or usher, due to the increased liability and risk, security team members should be thoroughly screened and carefully selected. Be aware that many churches already have attending members who are either retired or serving in active law enforcement or military service. Such persons can be of great benefit, because of their training background, however, formal training should not be the primary consideration when selecting members.
Just like any other work within the body, the security ministry is first and foremost a spiritual function and the selected members should be required to participate in biblical training and worship and have the evidence of spiritual fruit, maturity, and self-control.
In order to assist ministries in operating a church security team or safety ministry, Full Armor Church has put together a Complete Church Security Ministry Kit resource. Our kit contains everything you need to properly organize your church based program and includes: sample policies, guides, forms, and training material to assist in educating and preparing the local members. All of our material was developed using current law enforcement response protocols, crime prevention techniques, and incorporates spiritual preparedness for a well-rounded approach to church safety and security. Download your digital copy today.
CONDUCT SCREENING OF VOLUNTEERS
Psalms 127:3 tells us, "Children are a heritage from the Lord." As such, we should take every precaution to ensure minors attending our churches are safe and protected from those who seek to do them harm. As standard practice, and prior to being permitted to serve, churches should require that all volunteers complete an application, sign for the receipt of your child-safety policies and procedures, and undergo a criminal background check.
Courts have overwhelmingly ruled that churches are liable to ensure they have used due regard for the safety of minors attending or participating in church organized functions.  In the unfortunate event you are confronted with an allegation of abuse or negligence by a staff or volunteer, an inquiry will be made into your screening procedures and practices. Failing to conduct a background check on all volunteers and employees exposes you to greater civil liability, and in some case, criminal negligence.
In addition to background checks, it is good practice to retain applications for employees and volunteers in a secured format for no less than 15 years. You should always make sure to identify the statute of limitations for offenses involving minors within your state before purging records.
To ensure proper screening of your candidates, and to avoid civil liability, you should never use web based screening companies that offer immediate and unlimited background checks for a set monthly fee. These service providers are not investigative firms, and as such, they do not verify the candidates' identity and do not validate court records for accuracy. The personal information they provide may contain costly inaccuracies, or even worse, have criminal records that were blocked by the privacy request of the candidate in question. As a good rule of thumb, sites that are not Federally Compliant with the Fair Credit Reporting Act (FCRA) cannot be used for employment or volunteer screening.
We understand that many churches have opened themselves up to harm and liability, simply because the cost of completing background checks has created an undue financial burden. That's why Full Armor Church designed a program that caters only to churches and faith based non-profit organizations. Cost no longer needs to be an obstacle to your safety and the protection of your reputation and integrity within the community.
Unlike many other service providers, we charge no monthly fees and our checks start at $12.  You can view our  church volunteer and employee background check program here.
DOCUMENT INCIDENTS / ACCIDENTS
There are a variety of incidents that can occur on church owned property. From vehicle burglaries, thefts, medical emergencies, accidents, or even complaints of improper or inappropriate conduct. Regardless of the nature of the incident, you should properly document the occurrence on a church incident report. Such reports should include: the time and date of occurrence, location of the incident, person(s) involved, any witnesses present, any claimed or documented injuries, services provided, outside agencies involved, and a short summary of the event. These incident reports should be completed by an assigned staff member and promptly reviewed by the Sr. Pastor or oversight board. Finalized reports should be permanently retained on file.
Documentation helps to establish your due regard for the safety of others and aids in recollection – in the event of allegations or future litigation. We have included a church incident report and reporting guidelines and practices within our church safety kit.
PREPARE THE BODY FOR WHAT TO DO IN THE EVENT OF AN EMERGENCY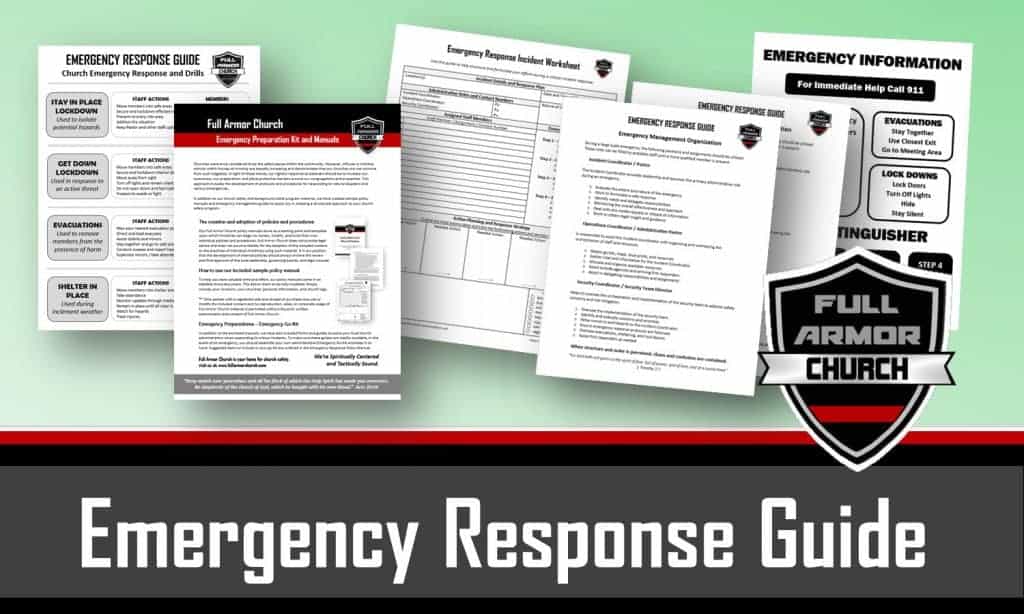 When people enter your church, they assume that you have put adequate security measures in place to ensure their safety. Civil courts have shown that this is a reasonable expectation, and therefore, places a responsibility upon houses of worship. For that reason, you should ensure that you have basic first aid supplies readily available and on hand, properly working fire prevention equipment, and posted fire evacuation routes for areas in which children are housed. You should also prepare the congregation on what to do in the event of an evacuation, a lock-down event, or when faced with an active threat inside the church.
It us suggested that you assign or appoint a security director to assist with overseeing the emergency readiness and proper preparation of the body. Our church security policy manuals and emergency response guide is a great place to start. We have also included evacuation guides and other useful tools to ensure you are ready and equipped to serve the body in time of need.
For more information on the materials available to assist, visit our Church Security page.
ESTABLISH PROTOCOLS FOR YOUTH AND CHILDREN'S MINISTRIES
Ministries should pay particular attention to the protocols and practices surrounding their children's and youth based ministries. These areas can draw our greatest scrutiny and should be constantly monitored for the potential of exploitation.
Every function in which parents or guardians drop off minors for care and supervision should have some form of sign in and check out system. This can be as simple as a sign in sheet, sticker based tracking system, or software attendance program. Parents should also be required to complete an emergency contact form and provide details on identified needs and services specific to their child. This form should include: emergency contact information, known medical conditions, medications, allergies, physical limitations, etc.
In addition to child safety procedures, you should also have assigned security staff members to routinely monitor and supervise areas in which classes or activities are being held. It is also essential that every child care workers have access to some form of communication in the event of an emergency.
We have created a Child Safety Kit to help provide churches with much needed resources for staff training and volunteer screening. We have also incorporated a fully customizable child safety policy manual; which can be reviewed, easily modified, and then adopted and printed. 
FINANCIAL SAFETY
The collection, counting, and securing of church offerings and finances should always be performed with no less than two appointed members. Preferably, one of which is trained and/or serving as a member of the security ministry.
Any funds retained on site should be properly verified and then secured in a location that has adequate locking mechanisms and the ability to be monitored with alarmed entry points or surveillance. Desk drawers, money bags, or unmounted components should be avoided. Instead, consider using mounted safes or depository devices that can be installed in selected areas, to ensure the safe retention of funds until deposits can be made.
Ensure you have adequate auditing and oversight protocols and practices in place and routinely modify or change any user access codes and passwords. You should also avoid developing any set patterns when depositing funds – to avoid predictability.
STAY CURRENT
One of the greatest contributors to criminal activity is opportunity. In law enforcement, there is widely known concept known as the "Broken Window Theory." In essence, if items go unaddressed then the perception is that nobody cares. If broken windows are tolerated, then discarded trash and abandoned vehicles must also be acceptable. After all, nobody really seems to cares – right? 
If you have broken windows, faded signs, or parking lots full of debris, what sign are you sending to your community? What behaviors, attitudes, and activity are you drawing onto your property? Being good stewards of God's house requires that we work to maintain its appearance and upkeep. In so doing, we create the perception within the community that there is life within its walls. The simple act of  maintaining your property can thwart and deter would be criminals who are looking for opportunities to go unnoticed or blend in.
WE CAN HELP YOU STAY PREPARED
Full Armor Church can assist you in creating a safer ministry model and prepare your staff and volunteers to assist the body in time of need. Visit us today to download your copy of our Church Security and Safety Ministry Kit and register to use our church volunteer and employee background check program.  www.fullarmorchurch.com